FROM ESPN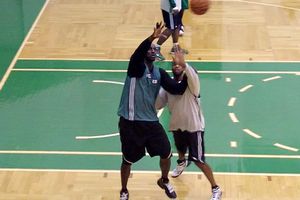 WALTHAM, Mass. -- Boston Celtics forward Kevin Garnett returned to practice Tuesday, engaging in full activity for the first time since hyperextending his surgically repaired right knee late last month.
By all accounts, Garnett looked fluid and he even expressed a desire to return to game action as soon as possible, though Celtics coach Doc Rivers indicated it will come no sooner than Friday night against the Portland Trail Blazers. Boston is waiting to see how the knee responds in the next few days before making a decision on that contest.
"Felt good to be back with the guys today, [my] first real practice, it felt good," Garnett said.

Asked if he would push Rivers to put him in the lineup Wednesday night on the road against the Detroit Pistons, Garnett joked, "It wouldn't be me if I didn't ... [But I'm] being smart about injuries, so they don't get worse. I think I learned that last year the hard way. I'm trying to be patient and actually listen."

Captain Paul Pierce, who missed part of the same stretch with a right knee infection, said it was good to have Garnett back on the floor.

"He looked real fluid, he got up and down the court, and we got him the ball in the post," Pierce said. "It'll be a positive to get him back, whenever he comes back. We don't know if it'll be [Wednesday], later in the week, or whenever. It's just good to have him out there -- his presence -- you feel it and see it on the court."

Rivers rotated Rasheed Wallace off after the early portion of practice -- noting that Wallace is recovering from both a sore left forefoot and a previously undisclosed groin injury -- and turned Garnett loose in 5-on-5 drills.

"[Garnett] looked really good, played well, but his conditioning is awful," Rivers said. "That's why I stopped [practice]. He was going well and I didn't want to take him to the next step yet. He'll do some running tomorrow, then we may do something Thursday. Friday, we'll see."

Rivers said Garnett would travel to Detroit for Wednesday's game but would not play. He joked he'd stay behind in Boston "if we get nine guys to play pick-up with him ... any volunteers?"

Asked why he wouldn't consider letting Garnett play Wednesday, Rivers suggested the Celtics wanted to see how he responds to heightened activity.

"He's just had one practice with all the rest. I'd rather wait and see," Rivers said. "The plan is Friday, but if he gets sore or anything, we'll push it back to the next game."

Garnett has missed nine games since he was kicked in the knee during a loss to Golden State on Dec. 28. The Celtics are 4-5 over than span, with their defense a particular concern as it was in a 99-90 loss to Dallas on Monday. Garnett's return should help both physically and verbally.

"Intensity was going to be up today anyway after the loss last night," Rivers said, "but then adding Kevin to the mix takes it to another level and he gives everybody ownership of the defensive end.

"The constant talking, even when we get a stop, if we don't do it the right way, you hear his voice on the floor: 'We got away with that. We want to be good. We don't want to be lucky,'" Rivers said. "I bet I heard him say that three times today when we got stops but we cut corners. That's what he does. It's important for our defense."

"Our defense was built off of grit and effort," Garnett said. "At this stage, we've got to grind all these [games] out, but it's a good time for everybody to be coming back, and coming back healthy and strong."

After a period of inactivity, which Rivers had dubbed a "minor miracle," Garnett began working out last week. Rivers noted earlier this week that he expects Garnett to join a handful of teammates Thursday to run through offensive sets to help familiarize himself with the offense again before returning to game action.

"When you're younger, you think you can go all day, run through a wall," Garnett said. "I'm sure we all learned the hard way and I'm no different. I'm just trying to be a lot smarter and not be injured. I'm having these freak accidents. It's funny, I was in Minnesota for a while and missed probably six games. Then the championship air here, you get these weird injuries. But I'm going to continue to breathe this championship air, get these weird injuries and fight through them."

Asked if he brought a new level of intensity to practice Tuesday, Garnett smiled and said, "When it comes to intensity, I don't have to try that, that's just something that's instilled in me and that I bring naturally."