SOURCE: GMANEWS.TV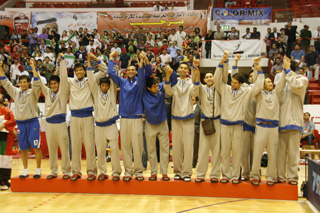 DUBAI - The Smart Gilas Pilipinas team avenged its only loss in the elimination round of the 21st Dubai International Basketball Championship by defeating Jalaa of Syria 107-98 to grab third place honors in the tournament.
It was yet another come-from-behind victory as Smart Gilas, playing all-Filipino once again, never had the upperhand in the tight contest until Chris Tiu's free throws off a technical foul on Jalaa's assistant coach gave the Filipinos a 78-76 lead.
From there, Smart Gilas never relinquished control, leading by as many as 11 points, 97-86, with 1:09 left on two free throws by Marnel Baracael.

Smart Gilas' sniping from the three-point area from Baracael, Mark Barocca, Tiu and JV Casio, as well as gutsy penetrations from Barocca over the taller defenders of the Jalaa squad resulted in their breakaway from an erstwhile tight ballgame.

The Nationals trailed at every end of the first three quarters, 18-26 in the first, 40-48 in the second and 67-70 in the third, before making their move in the final canto en route to a vengeful win over the Syrians. Jalaa accounted for Gilas' 76-90 at the start of the tournament.

Casio, a former gunner from La Salle, was also adjudged the best point guard of the tournament. - Albert Alba, GMANews.TV