By Kevin Riley | bleacherreport.com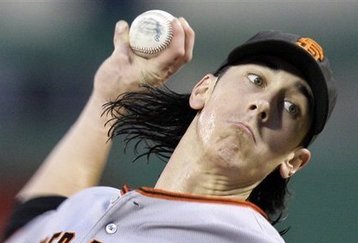 Over the last few years, Filipino boxer Manny Pacquiao has taken off like a rocket, and he hasn't been alone.
Millions of his countrymen have strapped themselves to his back so they can experience all the thrills of the world's most riveting sport.
Together, they've traversed numerous weight classes, defeated countless contenders, and have won a record seven different world championships.
Everything they do, they do together, and their heartfelt unity has paid big dividends.
The People's Champ is now sitting comfortably atop the sport of boxing and his passionate fans are sitting right there with him.
But to the surprise of most Filipinos, there is another Pinoy riding around on a rocket all his own. And for the last few years, none of them have known about it.

Tim Lincecum is a starting pitcher for the San Francisco Giants and he has been absolutely dominant since he first made his debut in May of 2007. The 25-year-old right-hander can knock down big-league hitters like a round-a-bout left hook landing squarely on Ricky Hatton's jaw, and he has the hardware to prove it.

Lincecum is the first pitcher in Major League Baseball history to win the prestigious Cy Young Award in each of his first two full seasons. He is also the only pitcher to strike out more than 260 hitters in each of those two seasons, and his competition isn't even close.

Along with Pacquiao, Lincecum is undoubtedly one of the two most gifted and accomplished Filipino athletes that ever lived. But unlike Pacquiao, Lincecum's appearance doesn't quite scream out "I'm Filipino."

But then again, Lincecum's diminutive stature and lanky frame doesn't exactly scream out "I'm the best pitcher in Major League Baseball" either.

With looks more resemblant of the lead singer from the psychedelic rock band MGMT, one thing will become perfectly clear the first time you see Lincecum rear back, torque his body, tilt his head, and explode forward to unleash a pitch.

There is nothing pretend about The Freak and his God-given abilities.

For people who have spent their lifetime in Major League Baseball, it would be much easier for them to imagine the 5'11", 172-pounder shedding 25 pounds and KO-ing Pacquiao on Mar. 13 to win his WBO welterweight title than it would be for them to imagine what he's already accomplished.

At a press conference this past November, Giants' Senior Vice President and General Manager Brian Sabean spoke about their half-Filipino, half-Caucasian pitcher winning the 2009 Cy Young Award, and his extolling comments revealed that bewilderment:

"Obviously a momentous day, pretty amazing, but that's what defines Timmy's ability...it really is a proud day for Timmy, the organization, and our fans. A lot of hard work went into this, and I don't say this tongue in cheek, but where do we go from here?

"It's pretty awesome and I think it speaks volumes to his dedication to the game, his love of the game, and really his competitiveness...this guy is all about winning a baseball game once he gets out there.

"His statistics were improved from last year [and] including [being] on a team that was very challenged to score runs, or win a baseball game, it really is amazing and we're certainly very fortunate to be here today."

And when the man of few words was given his opportunity to talk, he proved that he is humble too. Just like Pacquiao.

"I want to give thanks to all my teammates, and the organization as a whole. A big thanks to Rags (pitching coach Dave Righetti) for dealing with me day in, and day out, the last three years. And obviously the biggest...to my dad."

His dad, Chris Lincecum, is the mastermind behind his mechanics.

Ever since he was a 5-year-old boy, Tim and his older brother Sean have played baseball. They spent years in the backyard of their Renton, WA home with their father Chris, learning the intricacies of that audacious delivery.

And his mother, Becky Asis, might be part of the reason behind Tim's unassuming nature and humbleness.

A second-generation Filipino-American, Becky is one of Balleriano and Philomena Asis' 10 children—eight girls, and two boys.

Their father Balleriano was born in Honolulu, HI and his father, Genaro Asis was born in Mindanao, Philippines; his mother, Alberta Alcoy was born in Cebu City, Philippines.

Their mother Philomena was born in Stockton, CA and her father, Leoncio Marcigan was born in Batangas, Philippines; her mother, Anustasia Dominguez was born in Siquijor, Philippines.

Outside of baseball, Lincecum is a homebody and a family man. He has two nephews who "love to play ball with their Uncle Tim," and dozens of cousins. He also was extremely close to Balleriano who passed away in August of 2007, and it showed on the field.

Just days after his passing, Lincecum had to pitch against the Chicago Cubs. Through the first eight innings of the game he was his usual dominant self, but in the ninth inning everything came crashing down.

He surrendered three straight hits and allowed three earned runs.

The Cubs overcame a 1-0 ninth-inning deficit to win the game 5-1, and the next day Lincecum admitted that he had been pitching with a heavy heart:

"It was my fault, I had a lot of stuff in my head. Out there, I was thinking about [my grandpa]. I was thinking of past stuff as well as using him to help me. A lot of people do that...they look to God and relatives that have passed away.

"They look to them to help them get through stuff. I guess I used him like that...and it was great. It's sad to see him go, and it's kind of tough to deal with, but on the field I'm just trying to be as focused on the game as possible."

I bet "Papa Bolo" would be extremely proud of Timmy if he was still around today. And I bet he would be happy knowing that his Filipino countrymen had finally recognized Timmy was a Filipino too.



Special thanks to "Aunty Puff" for contributing to this story

Photo of Tim Lincecum courtesy of Gene J. Puskar