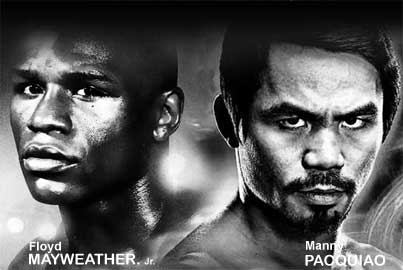 HOLLYWOOD – The super-fight between Manny Pacquiao and Floyd Mayweather could take place within the year.
"Yun naman ang gusto ko (That's what I want)," said Pacquiao at his luxurious La Pallazo luxury apartment Monday or two days after his 12-round victory against Joshua Clottey at the Cowboys Stadium.
Pacquiao said in the post-fight press conference last Saturday that while the fight with Mayweather is "the fight the people want," it's really up to the self-proclaimed pound-for-pound champion if he wants it, too.
"It's up to him. I have no problem fighting him. But I don't think he's ready now," said Pacquiao, the WBO welterweight king.
He said Mayweather's demands for an Olympic-style drug-testing when boxing has always adhered with the rules laid down by the commission is the best way to dodge the bullet, and instead found himself facing Shane Mosley on May 1.
Mayweather should be the favorite against Mosley, the reigning WBA welterweight champion, and if he succeeds, calls for a Pacquiao-Mayweather unification bout will be even harder to ignore and much harder to resist.
One of Pacquiao's advisers, Wakee Salud, said Mayweather may just be buying time by avoiding an early clash with Pacquiao. But after the Mosley fight, then the 33-year-old American should be ready for the biggest fight in history.
"I think the fight will happen. It has to happen," said Salud, a matchmaker from Cebu, and one of the very few persons who gets to call Pacquiao and talk to him anytime of the day, anywhere the boxing icon is.
"That will be the biggest fight in history. Both fighters know that," said Salud of the super-fight where both boxers stand to get no less than $30 million each as long as they agree to do it any place on earth.
Salud said Mayweather coming out of retirement, at a time when Pacquiao is almost running out of opponents in every division he chose to invade, is a big sign that the trash-talking boxer wants a crack at the Filipino.
"Pacquiao is the only reason Mayweather came out of retirement. He knows that there's a lot of money to be made by facing Pacquiao. But he's not ready yet," said Salud.
No wonder Mayweather, who formally announced his return to the ring, against Juan Manuel Marquez, on the eve of Pacquiao's fight with Ricky Hatton last May, chose to fight Shane Mosley two months from now.
Mayweather knocked out Marquez, and is favored to beat Mosley, as a tuneup for the Pacquiao fight.
"I think it (Pacquiao-Mayweather) will happen this year," added Saud.
Notes: While his wife, Jinkee, went out shopping at The Grove on a sun-blessed Monday afternoon, Manny Pacquiao was in his LA apartment entertaining more than a dozen visitors with a "friendly" card game of "Pusoy Dos." And while he had one eye glued on the game he was playing, he had the other glued on the plasma screen showing a game between the Boston Celtics, his home team even when he's far away, against the Detroit Pistons. "May pusta ako dyan (I have money on that)," he said. And it's no friendly bet. The Celtics won by a mile, 119-93... Pacquiao is scheduled to hold a concert in Hawaii on Sunday and if it happens will fly straight to Manila the following day... Traditionally, Pacquiao does his "thank you" visit to the Wild Card Gym the Monday after the fight, but this time he had to skip it because his chief trainer, Freddie Roach, flew to New York for the press conference of the Amir Khan-Paul Malignaggi fight on May 15 at the Madison Square Garden. Roach, who trains Khan, will be back in LA on Wednesday. Pacquiao said he'll be at the gym that day.