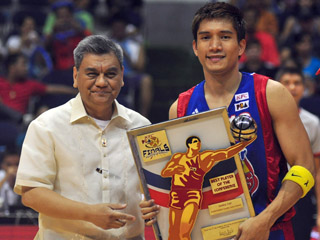 "Miller Time" has been a familiar refrain for Alaska ace Willie Miller during the first half of the KFC-Philippine Basketball Association Philippine Cup. But it was Purefoods star James Yap who stepped up big time during the more important playoffs.
For this, Yap secured his first Best Player of the Conference (BPC) award, becoming the first Purefoods player to win the award since Rey Evangelista in the 2002 Governors Cup.
The 6'3 forward from Escalante, Negros Occidental, won convincingly over Willie Miller and Sta. Lucia's do-it-all forward Kelly Williams.
Yap, the only player in Purefoods' current roster who won a Most Valuable Player award aside from four-time MVP and current team manager Alvin Patrimonio, garnered 221 statistical points, 591 media votes, 128 players' votes and 150 votes from television coveror for a total of 1,380 points.
"Masaya ako sa award and I would like to thank my teammates, coaching staff and management," said Yap. "Pero siyempre, mas masaya kung mag-champion kami."
Miller, a two-time MVP and a two-time winner of the BPC, came in second after accumulating 925 total points while Williams, who also won both an MVP and BPC award, placed third with 476.
Williams was No. 1 in the statistical points (SPs) average with 40.6 despite his team missing the playoffs.
Yap dedicated the honor to his late mother-in-law, former President Cory Aquino. - GMANews.TV