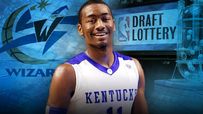 RESEDA, Calif. -- John Wall has been billed as the top pick in the 2010 draft for two years.
And while he was able to lock in and focus on Kentucky in leading the Wildcats to 35 wins, an SEC title and an Elite Eight appearance, the anticipation surrounding Wall was about the draft.
"It was tough," Wall said early Tuesday after a morning workout at the 360 Athletic Club, hours before he would learn the NBA draft lottery. "I was 17 years old at the time and everyone was telling me about it [being the top pick]. I had to block out, stay hungry and humble.
"People thought I was just going to look over college basketball and not take it seriously, not do my school work and just look to the draft," Wall said. "But that wasn't my goal or my mindset. I went to Kentucky to be a better player. Coach [John Calipari] and [assistant] coach [Rod] Strickland helped me get better. The college experience jump-started me to the NBA."

His projected one year in college was highly coveted with Kentucky beating out Duke, Baylor, Miami and NC State for his services.

Wall said he was particularly proud of his 3.5 grade point average in his second semester at Kentucky, which would dwarf the overall fall semester GPA of the Wildcats. The Lexington Herald-Leader reported that Kentucky's basketball team's first-semester grades were a seven-year low of 2.025.

"I finished the semester with a 3.5 and people thought I wouldn't finish school or blow past it since I knew I was going to the NBA," Wall said. "It made me feel good because people say I'm not smart enough or I don't take my school work seriously. But I took it seriously both semesters and finished with a great grade point average."

The classroom isn't the only place where Wall is getting good marks.

ESPN.com polled a third of the league and the consensus was that Wall would be the No. 1 pick. Even if Utah were to land the pick since it owns New York's selection, the thinking was that the Jazz might take Wall and use him as a highly-valued trade asset if they determined he couldn't play with all-star and Olympian Deron Williams.

For now, all the young point guard can do is work to improve his game and wait to see which team will likely take him with the top pick.

Wall, shadowed by his former summer league coaches and close family friends Brian Clifton and Dwon Clifton, who has left his assistant coaching position at Baylor to join Wall, was working out with noted pre-draft trainer Joe Abunassar on Tuesday as part of his Impact Basketball training group. On Tuesday night, Wall planned on watching the lottery at the Los Angeles area home of his agent Dan Fegan.

The plan was then for Wall to head to Chicago this week for the NBA's pre-draft combine. As a lottery selection, Wall won't go through the basketball drills but will go through the strength and agility testing as well as medical testing. Wall probably won't have to go through interviews with NBA teams since he's likely only going to interview at the site of the team with the top pick and maybe No. 2 or possibly No. 3 as a safety net.

After that whirlwind, Brian Clifton said Wall will get a brief stop in his native Raleigh for a few days before using Tampa as his home base for much of June prior to the draft. Clifton wanted Wall to be in a much more isolated area and out of the spotlight in his prep work for the draft.

But hiding from the fame has been hard in the sport for Wall recently. He was pegged as the next golden child in a sport that loves to cradle its next super stars from early on in high school through however many years he's in college.

Wall said he's convinced had the NBA not had the rule that a player must sit out a year (in addition to being 19) that he wouldn't have been ready for the league out of high school.

"I wouldn't have been one of those players that could have been something," Wall said. "I needed the maturity to go to college. The one year of experience, listening to the coaches and playing in the Elite Eight helped."

Though he only lost three games in his brief collegiate career, Wall said he'll be able to handle going to a team with a losing record just like he went to Kentucky after it had a down year the previous season.

"I wasn't just me," Wall said. "The team believed in me as the point guard. Patrick Patterson was there. We had talent. Wherever I go, there will be a new coach [for him], a new team and I'll be ready to play."

Wall was indeed part of a gifted Kentucky team, but his talent stood out above that of his teammates. Wall's exceptional speed at the point from one end to the other differentiates him from other point guards. His 6-4 frame allows him to elevate and finish. His ballhandling is not an issue. If there was a point of contention with Wall it's his outside shooting. Wall led the Wildcats with 16.6 points a game but shot 32.5 percent on 3-pointers.

"I'm working on all the angles on my jump shot," Wall said. "My jump shot is the key thing. Guys go on the pick and roll and will force me to knock down shots. I want to be one of those point guards who knock down shots you have to get over the top. I want to make it easier on my teammates. I'm not going to take bad shots but take shots that are open for me. I feel like I can be a great defensive player when I put my mind to it for the whole game, not just half the game."

To that end, Wall is already scouting his future competition to pick up a few pointers. Wall was at Staples Center for Game 1 of the Western Conference finals Monday night to watch the Lakers and Suns and said he spent the evening studying Kobe Bryant's footwork.

"I have to work on mine," Wall said.

One thing he doesn't have to work on is managing his emotions. Wall was calm and relaxed in anticipation of the lottery order being announced. He said his family and friends were almost treating it like it was draft night. But he wasn't, because again, he won't be alone heading into June's draft as many of his Kentucky teammates are expected to hear their name called after his.

Wall will likely go No. 1 and then be followed by at least one other teammate in the top five in fellow freshman DeMarcus Cousins. Three of Wall's other teammates -- freshman Eric Bledsoe, Patterson, a junior, and freshman Daniel Orton -- are also projected to go in the first round.

But until then, Wall will keep working and keep waiting.

Andy Katz is a senior writer at ESPN.com.