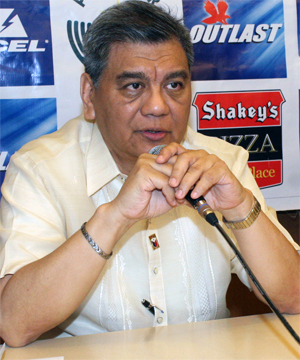 Philippine Basketball Association commissioner Sonny Barrios has read reports regarding Sta. Lucia forward Kelly Williams being offered as part of a trade package to the Talk N Text Tropang Texters.
Barrios sees no problem with that.
"Trading a player from one team to another is nothing but ordinary in the league," Barrios told GMANews.TV in a telephone interview. "The only problem I see here is once Talk N Text decides to loan a player or players to a national team not sanctioned by the PBA."
"But we're just trying to get ready with what's going to happen. The trade and loaning of player have yet to happen. We still don't know yet if ever it will push through," he added.

Barrios explained that a player is bound to follow the uniform players' contract (UPC), which is an agreement among the player, his mother team and the league under the Office of the Commissioner.

Playing outside of his mother team is not included in the UPC, according to Barrios, which is why Talk N Text will definitely need to get his approval before loaning its player/s to Smart-Gilas national developmental team that will compete in major international basketball events such as the Asian Games this year, the Olympic-qualifying FIBA Asia Championship next year and other invitational tournaments.

"Have you seen a PBA player loaned to the national team except a PBA-sanctioned RP team? That's the only time you see players in the PBA being loaned by their respective mother teams to play for just one team, which is the all-pro national team. Even the RP team coach is selected by the commissioner," said Barrios.

"But we will also study if ever the loaning of a PBA player can be appealed to the board. But as far as I know, this case is a commissioner matter since I am also the one approving the trading of players. So far, that is our existing template, so that's the one we should follow," he added.

PBA board chairman Lito Alvarez of Air21 believes that trading Williams to Talk N Text is the right thing to do so as to compensate for Sta. Lucia's major loss - if ever it pushes through.

"Buddy Encarnado was right when he asked what they do get in return in unloading Williams? He is a marquee player so his team should be compensated for that," said Alvarez, who also experienced a similar case when he agreed to trade this season's top overall rookie pick Japeth Aguilar to Talk N Text in exchange for four marquee players.

The 6-foot-9 Aguilar was loaned to the Smart-Gilas team and will finish his commitment there before he will see action in the PBA for the Tropang Texters. - Rey Joble, GMANews.TV